Bachelor Parties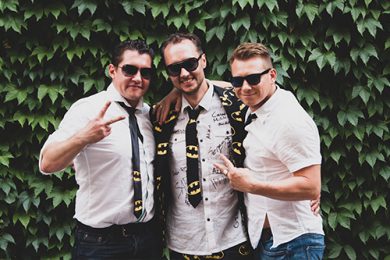 When it comes down to being placed in charge of a Bachelor Party in Dallas, we frequently see that people are quickly in over their heads. There are so many options available that it's nearly impossible to settle on the best ones. Sometimes we think about creating a completely separate website for planning Dallas Bachelor Parties because it's so overwhelming. Dallas, Texas is such a bustling city that one could not only make it a bachelor party or bachelor party weekend but they could even plan an entire bachelor party week if they wanted to! Of course we realize that not everybody has the resources or the time to be able to pull off an entire bachelor party week but they most definitely could manage it if they did.
Sight Seeing in Dallas
Although Dallas, Texas is full of many locals whom have lived in the area or surrounding suburbs for many years, it's quite stunning that there are a great number of people who have not truly experienced Dallas, Texas in its entirety. Things like The Sixth Floor Museum at Dealey Plaza, The Dallas World Aquarium, The Dallas Arboretum and Botanical Garden, Nasher Sculpture Museum, The Dallas Zoo, the DMOA or Dallas Museum of Art, Klyde Warren Park, or more. There are a seemingly endless number of places to go if you crave culture and memorable experiences in Dallas. Of course these aren't ideal for a bachelor party if they're the only thing you do. But they're definitely not frowned upon if you want to start the experience out right; with a little culture before the wild parties begin. You do want to do that, don't you?
The fun ends with nightlife
Of course, when it comes to having a full blown bachelor party-flavored shindig, then you definitely want to hit up some of the nightlife in Dallas. Whether you're into sports bars or ahem, gentlemen's clubs, Dallas has your back. As the old adage goes, everything is bigger in Dallas and that includes our nightlife. We've got places like Lizard Lounge, Avenu Lounge, Club 8 Dallas, Round Up Saloon, Station 4, The Door Clubs, Candleroom, Escapade Dallas, The Church, The Dram, Cowboys Red River, Sue Ellens's Club Icon, House of Blues, PT's Men's CLub, The Balcony Club, The Goat, Kismet Lounge, Club Dreamz, and Outer Limits.
All of these clubs offer a wide variety of things to do for the evening. For one, you could head to a saloon and get a true Texas cowboy experience while having a few shots of whiskey and enjoying the atmosphere. Secondly you if you were looking for a little adult entertainment with the gentlemen, you could head over to somewhere like PT's Men's Club in which you'll find the hottest women in Dallas dancing for your entertainment. Make sure they know its your bachelor party because you'll be sure to get special treatment. If that's not your thing, you could head somewhere traditional like the House of Blues. At the House of Blues you'll be able to hear some live tunes, eat some traditional Southern dishes like po' boys and jambalaya. One thing remains true; if you're looking to have a great time while experiencing Dallas night life, then be sure to check out any of the spots mentioned above. They'll be sure to make your bachelor party a blast.
If you're looking for more information about what to do, where to go, or even how to plan your bachelor party, then give us a call. We'll happily assist you to the best of our ability. We deal with a lot of different types of events which gives us a unique perspective in the industry. Not very many industries can claim to have experience in bachelor parties, weddings, golf outings, clubbing, night life, sight seeing, wine tastings, and more. We see it all, we do it all, and we help you live it all. So give us a call today.