Bachelorette Parties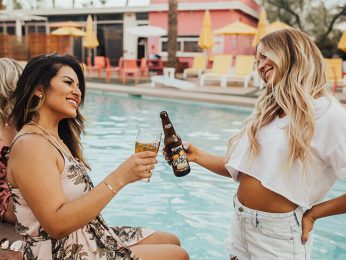 Trying to organize a bachelorette party for your best friend can be a serious experience. It can be quite difficult to organize. You've got to call everyone invited and get them together, and so on. The main issue, however, is planning all of the fun activities and events while keeping it memorable and true to the bride's interests. In Dallas there are a seemingly endless number of things to do for a bachelorette party. Although that's a good thing, it's can become incredibly arduous when you discover just how much there actually is to do in the city of Dallas. That can lead to a difficult time making plans. If you've got a queue of events lined up then you can always consider renting a limousine or party bus for the event. This will allow the ladies to sit back, relax, and get chauffeured to and from the destinations on the agenda. Of course that's not all it can do. Some of the ladies like to get wild, so in that case you can turn up the tunes, get the lights going and dance the night away as our expert drivers take you to and from your destinations.
The typical agenda
In general, bachelorette parties differ from bachelor parties in the sense that men go out and get wild immediately. Women, usually meet at a central home and begin the night that way. It could be in the home of a relative or loved one, or a friend, or even the bride's home herself. The party begins at the home because it gets all of the women into a central location where they can finalize the night's agenda, set some ground rules, and more. It also allows for the women to sip on a glass of wine or two before leaving which really allows them to get loose before they even step foot out of the house. The second benefit of a central location is that if you rent a party bus or limousine, you can all be picked up in one swoop, knocking a lot of time off of the clock, leaving you more free time with the limousine or party bus, and less time to worry about the logistics of things.
It's not all about clubbing
Of course not every single bachelorette party begins in the evening. In a lot of cases, women prefer to do other things in order to begin the celebration. Sort of a "calm before the storm" idea for bachelorette party planning. Think of the storm as a wild night of dancing. The calm can be any of number of ideas. Usually the most popular are spending the day at the spa, going to yoga or a fitness class, or even hiring an in house professional massage therapist for the period before the limo or party bus arrives to pick up you and your party. Whatever the idea is, you'll be sure to spend a lot of quality time with the ladies in your life, leaving you reinvigorated, relaxed, and refreshed. We all know you're going to need it after a night of clubbing and drinking, right ladies?
It's her special day
Whatever you decide to do and wherever you decide to go for your Dallas bachelorette party, keep in mind that the first goal of the party is to allow for the bride to let loose and enjoy her last day of singledom. When you make plans, try and incorporate them into . Most importantly, ensure that everyone arrives home safe and sound after a night that they'll never forget. It is the bride's special night so don't forget it. Make her feel special.