Clubbing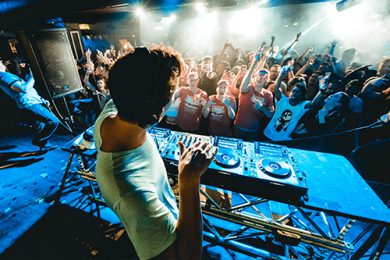 We take care of the great people of Texas. As the old adage goes, everything is bigger in Texas and when it comes to Dallas, Texas, that remains true. The club scene in Dallas is second to none and can fulfill anything from the most calm of nights to the most wild and unforgettable experiences that you've ever witnessed. Throughout our years in business we've been serving the great people of Dallas, Texas with our luxury transportation that they use to go to and from clubs, bars, and anywhere in between. If you're on the look out for a few clubs the consider giving us a buzz and we'll be happy to assist you with any information that you might need regarding clubbing in Dallas, Texas.
Round Up Saloon & Dance Hall
Round Up Saloon & Dance Hall opened its doors and made its inaugural debut on July 11th, 1980, meaning it has been in business for a whopping thirty five years! Show me a club that stays in business for over one to two years and I'll show you a moderately successful club. Show me one that is in business for over 35 years? Then I'll show you the best club in the city. Round Up Saloon & Dance Hall has been coined the home of Good Times and Good People for a great number of years and in all honesty offers some of the best dancers and the best cowboys in the Dallas / Fort Worth area as well as the entire country.
Round Up Saloon & Dance Hall has hosted a great number of occasions. If you name it, they've done it. Consider such charitable events like The Easter Basket Auction, Turtle Creek Choral, PSSA and DIVA specials, Texas AIDS Bike Ride, Razzle Dazzle Dallas support, The Denim Party, and more. They even started the "Rent a Cowboy" trend that you see popping up around the Dallas / Fort Worth area. Round Up Saloon & Dance Hall raises over $120,000 per year for local Dallas charities. That's over one hundred and twenty thousand dollars! Amazing!
If you're considering going clubbing and you're looking to meet some cowboys - or you're a group of cowboys looking for a great way to meet women - then considering heading out to the Round Up Saloon & Dance Hall. You'll be sure to have a fantastic time, surrounded by fantastic people, in one of the best dance clubs in the Dallas / Fort Worth area. Be sure to visit Round Up Saloon & Dance Hall.
Round Up Saloon & Dance Hall - 3912 Cedar Springs Road Dallas Texas, 75219 - 214-522-9611
Good times had by all
If you're unsure where to go, what to do, or even how many people you should incorporate into your special evening, then don't fret. Party Bus Dallas can assist you with everything you need to know about the club scene in Dallas, Texas. We'll be able to answer any questions that you might have about suggested times for pick up / drop off, where to go, what nights are the busiest, and so on. When it comes to the dance club scene in Dallas, Texas, then you're going to have a great time when you arrive in your own luxury limousine / party bus for the evening. So call today.
We also run specials from time to time so call to see if you qualify. Wedding specials, discounts for less-busy evenings, and more. If you're looking to save money you'll certainly be able to do so if you stay in constant contact with our great company. We'll inform you of any deals and of ways to save money because in the end, our customers matter most.