Prom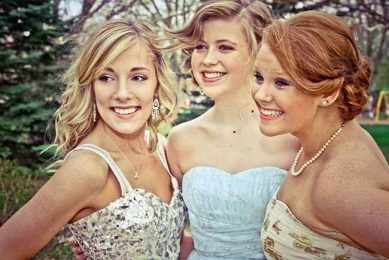 There are few times in your child's school career that they look back at and remember with such great detail. Their first day of high school, maybe their first serious boyfriend or girlfriend, and of course their senior prom. Who couldn't forget it? Getting picked up, going out to dinner, enjoying the evening. It is the first time that these children can get a taste of what adulthood is actually like. As of late, the trend has gone from children driving themselves to combining their assets and renting a party bus or limousine in order to make their senior prom a group outing. In general, senior proms finish around 10:00 or 11:00 PM and then the children are driven straight home. We'll get into our prom promise in a bit.
In general, Senior Prom goers will all meet at a central location. Usually this is a home centrally located to all of the students involved. This makes it easier for special events taking individual and group photos and also allows for the parents of all prom goers to see their children off. Generally this takes place between 4:00 PM and 6:00 PM. This allows for the event to take place in proper sunlight, for great photographs. It also allows all students and parents to be in a place with nice weather and a great overall look and feel in the sun.
Our promise to the parents
We understand that allowing your children to head off to a group activity for the first time in a limousine or party bus can be nerve wracking. It's understandable and okay. What we will say is that we take great efforts in order to make your minds ease as much as possible. We promise to do everything in our power in order to make sure that your kids are safe.
1. We will always make sure that your children never enter the vehicle with open containers of any liquid whatsoever. This allows for our driver to ensure that no illegal substances are mixed with drinks that your children may be carrying onto the bus.
2. We ensure that only the students that board the vehicle are the children that were pre-agreed upon using the vehicle. This means no outsiders allowed under any circumstances; any time. This allows us to ensure the integrity of our customers and keeps your children safe.
3. We compile a list of every child aboard our vehicle as well as the contact number of each and every single parent for those children. This allows us to ensure that in the case of any emergency whatsoever, we've got the ability to contact the child's legal guardian.
What you can expect
What you can expect from Party Bus Dallas is for us to provide top quality, high end, entertainment for your children. Your children will be driven on the party bus in a manner that is 100% safe, secure, and most importantly fun. Your children will get to experience the evening that many adults don't get to experience. If you'd prefer, you can be kept in the loop as to our whereabouts, when you can expect us, and where we'll be next. Throughout the next you'll be able to rest assured that your children are safe and secure, but most importantly having fun.